Thursday, 11:32 - 16/03/2017 .
Throughout VietNam, Asia Paint (Vietnam) is known for its commitment towards quality and technology through its highly trained and experienced staff. In fact, Asia Paint has continuously invested and channeled more resources – manpower, facilities and funds – in Vietnam to Research & Development. The Research unit aims to innovate new painting techniques and paint formulations, while the Development unit aims to ensure quality consistency and improvements on current practices. Asia Paint (Vietnam) aims to provide advise, support and assistance on the correct application of painting method and the most appropriate painting system to all our customers. We look forward to working with you in the future.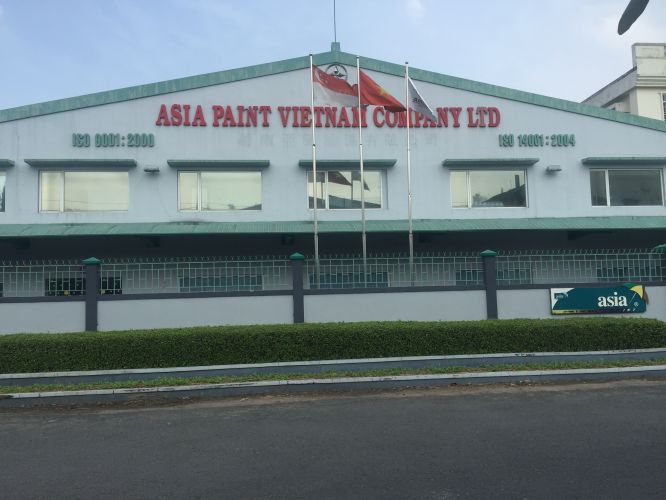 The following is the profile outline of Asia Paint (Vietnam) Co., Ltd
● Company name: Asia Paint (Viet Nam) Co., Ltd.
● Established : January 1998
● Headquarters: Asia Paint (Singapore) Pte. Ltd.
20 Tuas Avenue 8 Singapore 639235
Tel: (65) 65463955 ● Fax (65) 65463755
● E-mail : apaint@singnet.com.sg
Office & Factory: Lot I5 – I6 Viet Huong Industrial Park, Thuan An, Binh Duong, Viet Nam.
Tel: 0274-3743 627 - Fax: 0274-3747 698
HCMC Branch: 240 Luy Ban Bich, Hoa Thanh Ward, Tan Phu District, HCM, Viet Nam.
Tel: 028-38 605 047 | Fax: 028-38 605 049
Hanoi Branch: Lot 02. Phu Thi IP, Phu Thi Ward, Gia Lam District, Hanoi, Viet Nam.
Tel: 024-3874 2292 | Fax: 024-3875 3347
Email: info@asiapaintvietnam.com Website: www.asiapaintvietnam.com
● Factory area : 2000 m2
● Capital : USD $1.700.000 (100% oversea invested)
● Number of employees: 65
● Production capacity : 300 tons per month
● Main products : Monocoat, Heat Resistance paint, Polyurethane paint, Plastic paint, Epoxy paint, Stoving paint, 2K Clear, Auto Lacquer
● Distributions :China, Indonesia, Malaysia, Myanmar, Cambodia, Bangladesh, Pakistan, Sri Lanka, Brunei, Vietnam
● Technical licenses :
Cashew Paint (Japan)
V- Brother Industry (Thailand)
Kunsil chemical (Korea)
● Customers :
Japan : Daiwa, Astee, Duel, Srithai, Toshiba, etc…
Project : Sakura, Ichiban, etc…
Korea : Estec vina, SinYoung, etc…
Singapore : CNA-HTE, Urban Signal, etc…
Malaysia : Kingsmen, APM Spring, etc…
Vietnam : Catthaco, Liwayway.
● Our Philosophy
To commit to our customers our latest know-how and
Specialization through innovative and quality products
and solutions.
● Our Mission
● To build global company so that we can be nearer to our customers.
● To continuously innovate new products and solutions
to meet the demanding and changing needs of our customers
● To keep ourselves at the forefront of technology
● To provide our staff trainings, welfare and the pride
of success